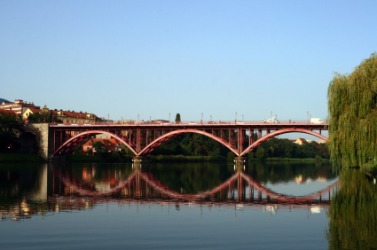 The river Drava or Drau.
---
Drava
river in SC Europe, flowing from the Alps of Austria southeastward through Slovenia & Croatia into the Danube: c. 450 mi (724 km)
---
Drava
or Dra·ve also Drau
A river rising in the Carnic Alps of southern Austria and flowing about 725 km (450 mi) eastward through Slovenia and northern Croatia to the Danube River.
---
Drava
Proper noun
a river in southern Central Europe, a tributary of the Danube
a statistical region of Slovenia
Origin
From historical Dravus, itself of unknown origin - either Celtic or Old European.
---