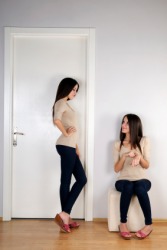 A woman with her doppelganger.
noun
The definition of a doppelgänger is a person's physical double.

An example of a doppelganger is a person's twin.
---
doppelgänger
noun
the supposed ghostly double or wraith of a living person
Origin of doppelgänger
German ; from
doppel
, double +
gänger
, goer: see gang
---
doppelgänger
Noun
(plural doppelgängers)
Alternative spelling of doppelganger.
See also:
doppelganger
---