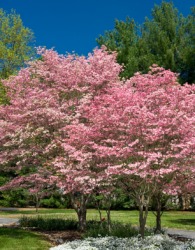 Flowering dogwood trees.
---
dogwood
adjective
designating a family (Cornaceae, order Cornales) of dicotyledonous small trees and shrubs
Origin of dogwood
shortened ; from
dogberry wood, dogberry tree
noun
any of a genus (Cornus) of trees and shrubs of the dogwood family, esp. the flowering dogwood
its hard, closegrained wood
---
dogwood
noun
Any of various trees or shrubs of the genus Cornus, having flowers in clusters and hard dense wood, and often cultivated as ornamentals.
A dogwood (Cornus florida) of eastern North America, having small greenish flowers surrounded by four large, showy white or pink bracts that resemble petals. Also called flowering dogwood.
Origin of dogwood
From
dog
(
used in composition to mean "inferior" or "strong-smelling"
),
perhaps in reference to the unpleasant odor of the flowers of the common European dogwood (Cornus sanguinea)
.
dogwood
flowering dogwood
Cornus florida
---
dogwood
Noun
(plural dogwoods)
Any of various small trees of the genus Cornus, especially the wild cornel and the flowering cornel
The wood of such trees and shrubs.
A wood or tree similar to this genus, used in different parts of the world.
---