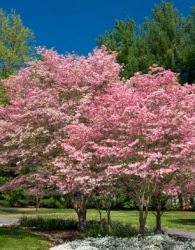 Flowering dogwood trees.
Licensed from iStockPhoto
---
adjective
designating a family (Cornaceae, order Cornales) of dicotyledonous small trees and shrubs
Origin: shortened ; from dogberry wood, dogberry tree
noun
any of a genus (Cornus) of trees and shrubs of the dogwood family, esp. the flowering dogwood
its hard, closegrained wood
Webster's New World College Dictionary
Copyright © 2010 by Wiley Publishing, Inc., Cleveland, Ohio.
Used by arrangement with John Wiley & Sons, Inc.
---
noun
In both senses also called
flowering dogwood
.
A tree (Cornus florida) of eastern North America, having small greenish flowers surrounded by four large, showy white or pink bracts that resemble petals.
Any of several trees or shrubs of the genus Cornus.
The American Heritage® Dictionary of the English Language
, 4th edition Copyright © 2010 by Houghton Mifflin Harcourt Publishing Company. Published by Houghton Mifflin Harcourt Publishing Company. All rights reserved.