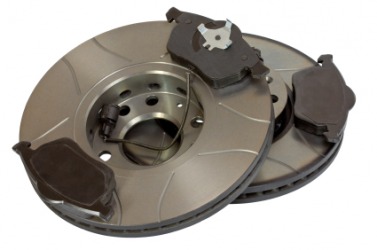 Disc brakes.
---
disc brake
a brake, as on an automobile, that functions by causing two friction pads to press on either side of a disc rotating along with the wheel
---
disc brake
also disk brake
noun
A brake in which the friction is caused by a set of pads that press against a rotating disk.
disc brake
disc brake system
---
disc brake
Noun
(plural disc brakes)
(Automotive) A type of brake where the friction is produced by brake pads which are pressed against a disk.
---