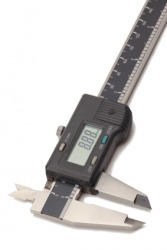 A digital electronic caliper.
noun
The definition of a caliper is a tool with two curved, movable legs used to measure thickness and distances.

An example of a caliper is a device for measuring the distance between two points on a map.
verb
Caliper is defined as to measure distance or thickness with a tool with two movable legs.

An example of caliper is to measure from point A to point B.
---
caliper
[usually pl.] an instrument consisting of a pair of movable, curved legs fastened together at one end, used to measure the thickness or diameter of something: there are

inside calipers

and

outside calipers

caliper rule
thickness, as of paper or cardboard, expressed in mils

the part pressed against the spinning wheel in a hand-operated bicycle braking system
the automotive disc brake housing containing the friction pads
Origin of caliper
variant, variety of caliber
---
caliper
also cal·li·per
noun
often calipers An instrument consisting of two hinged legs, used to measure thickness and distances.
A large instrument having a fixed and a movable arm on a graduated stock, used for measuring the diameters of logs and similar objects.
A vernier caliper.

a. The assembly housing the brake pads in a disc brake.

b. The assembly in certain bicycle brakes that forces the brake pads against the wheel rim.
Origin of caliper
Alteration of
caliber
Related Forms:
caliper
left to right: spring and inside
calipers
---
caliper

Noun
(plural calipers)
(usually plural only) Uncommon variant of calipers.
(automotive) The part of a disc brake that holds the brake pads.
---