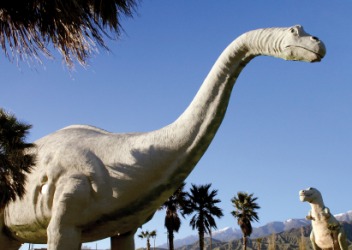 A statue of a dinosaur or dino.
noun
The definition of a dinosaur is someone who resists change or is old-fashioned.

An example of a dinosaur is the person in the office who still sends messages by fax.

A dinosaur is defined as any of the large, extinct reptiles that roamed Earth during the Paleozoic and Mesozoic eras.

An example of a dinosaur is the Brontosaurus.
---
dinosaur
any of various extinct, mostly land-dwelling, four-limbed saurischian or ornithischian reptiles of the Mesozoic Era, including some c. 30 m (98.4 ft) long: the flesh-eaters usually walked on their hind limbs, the plant-eaters on all fours

loosely

any large, extinct reptile of the Paleozoic or Mesozoic eras
someone or something thought of as being old-fashioned, outmoded, resistant to change, etc.
Origin of dinosaur
from Modern Latin
Dinosaurus
, origin, originally a genus name from Classical Greek
deinos
(see dino-) +
sauros
(see -saurus): coined by Sir R. Owen (1804-92), British anatomist and paleontologist
---
dinosaur
noun
a. Any of various extinct terrestrial reptiles of the orders Saurischia and Ornithischia that existed during the Mesozoic Era, including both carnivores and herbivores and often reaching a gigantic size.

b. Any of various other large extinct reptiles, such as an ichthyosaur.

A relic of the past: "living dinosaurs of the world of vegetation" ( John Olmsted )
One that is hopelessly outmoded or unwieldy: "The old, big-city teaching hospital is a dinosaur" ( Peggy Breault )
Origin of dinosaur
New Latin
Dīnosauria
group name
from
Dīnosaurus
former genus name
Greek
deinos
monstrous
Greek
sauros
lizard
Related Forms:
di′no·saur′i·an

noun

adjective
---
dinosaur

Noun
(plural dinosaurs)
Any of the creatures belonging to the clade Dinosauria, especially those which existed during the Triassic, Jurassic and Cretaceous periods and are now extinct. [from c. 1840]
(proscribed) Any extinct reptile, not necessarily belonging to Dinosauria, existing between about 230 million and 65 million years ago.
(figuratively, colloquial) A person or organisation which is very old or has very old-fashioned views or is not willing to change and adapt.
(figuratively, colloquial) Anything that is no longer in common use or practice.
Usage notes
Many animals commonly described as dinosaurs do not belong to Dinosauria, and are not true dinosaurs. These include pterosaurs, ichthyosaurs and plesiosaurs. Describing these as dinosaurs is frowned upon in scientific writing but persists in the media and in everyday speech.
Conversely, not all members of Dinosauria became extinct in the Cretaceous–Paleogene extinction event. Those which survived were the ancestors of modern birds, which therefore also belong to Dinosauria. However, birds are not usually described as dinosaurs, except in some popular science writing.
Origin
From Ancient Greek δεινός (deinos, "terrible, awesome, mighty, fearfully great") + σαῦρος (sauros, "lizard, reptile").
---