deciduous

de·cid·u·ous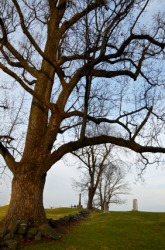 This deciduous tree has lost its leaves.
adjective
The definition of deciduous is something that sheds after a period of time, such as a tree or a shrub that sheds its leaves annually or the milk teeth of a mammal that are shed as the mammal grows.

A tree that loses its leaves annually is an example of a deciduous tree.
---
deciduous
falling off or out at a certain season or stage of growth, as some leaves, antlers, insect wings, or milk teeth
shedding leaves annually
short-lived; temporary
Origin of deciduous
Classical Latin
deciduus
from
decidere
, to fall off from
de-
, off, down +
cadere
, to fall: see case
---
deciduous
adjective
Shedding or losing foliage at the end of the growing season: deciduous trees.
Falling off or shed at a specific season or stage of growth: deciduous antlers; deciduous leaves.
Of or relating to the primary teeth.
Origin of deciduous
From
Latin
dēciduus
from
dēcidere
to fall off
dē-
de-
cadere
to fall
; see
kad-
in Indo-European roots.
Related Forms:
deciduous
top: with foliage in summer
bottom: without foliage in winter
deciduous
---
deciduous

Adjective
(not comparable)
(biology) Describing a part that falls off, or is shed, at a particular time or stage of development.
transitory, ephemeral, not lasting
Origin
From Latin dēciduus ("falling down or off"), from dēcidō ("fall down")
---