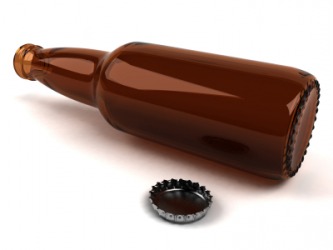 This empty beer bottle is called a dead soldier.
---
dead soldier
☆
Slang
an empty beer, wine, or whiskey bottle
---
dead soldier
Noun
(plural dead soldiers)
(slang) An empty container, usually a bottle or can which contained an alcoholic beverage.

1968 — Flesh And Blood By William Handley (1968) p.15

Another Dead Soldier! (Lays the bottle gently on its side.)

2000 — Thus Spake the Corpse: An Exquisite Corpse Reader 1988-1998 By Andrei Codrescu, Laura Rosenthal (2000) p. 344

When my mother drinks beer, she peeks in the bottle to make sure it's a dead soldier.

2002 — Thread of the Spider By Val Davis (2002) p. 117

By the time the pint was a dead soldier, Decker had the man's life story.
---