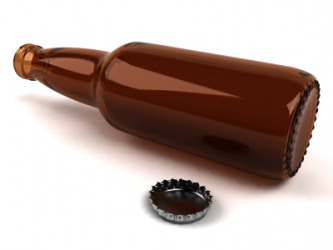 This empty beer bottle is called a dead soldier.
Licensed from iStockPhoto
---
☆
Slang
an empty beer, wine, or whiskey bottle
Webster's New World College Dictionary
Copyright © 2010 by Wiley Publishing, Inc., Cleveland, Ohio.
Used by arrangement with John Wiley & Sons, Inc.
---
dead soldier - Phrases/Idioms
Also,
dead man
. An empty liquor, wine, or beer bottle, as in
Their trash barrel's full of dead soldiers; they must drink a lot
, or
That dead man sticking out of your pocket alerted the officer to the fact that you'd been drinking. Dead man
has been slang for "empty bottle" since the late 1600s but has been largely replaced by
dead soldier
, dating from the late 1800s.
The American Heritage® Dictionary of Idioms
by Christine Ammer. Copyright © 2003, 1997 by The Christine Ammer 1992 Trust. Published by Houghton Mifflin Harcourt Publishing Company. All rights reserved.