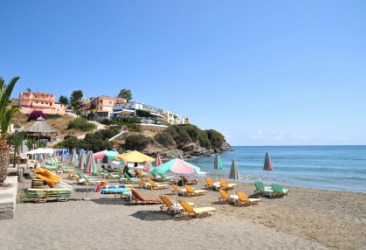 A beach on the island of Crete.
---
Crete
Greek island in the E Mediterranean: 3,219 sq mi (8,337 sq km); pop. 540,000; cap. Iraklion

S section of the Aegean Sea, between Crete and the Cyclades
---
Crete
An island of southeast Greece in the eastern Mediterranean Sea. Its Minoan civilization, centered at the city of Knossos on the northern coast, was one of the earliest in the world and reached the height of its wealth and power c. 1600 BC. Crete subsequently fell to the Greeks, Romans, Byzantines, Arabs, Venetians, and Ottoman Turks. The islanders proclaimed their union with modern Greece in 1908.
Related Forms:
---
Crete
Noun
(plural Cretes)
(archaic) A Cretan.
Origin
From Ancient Greek Κρήτη (Krētē).
See also:
crête
Suffix
(fiction) indicating a material functionally similar to concrete

Ceramacrete was a nonflammable construction material used in buildings of the Post Diaspora era.
Ceramacrete was a hard substance used to pave roads.

indicating having to do with concrete
---