noun
The definition of a colander is a large bowl with holes for draining liquid.

The bowl used to drain spaghetti is an example of a colander.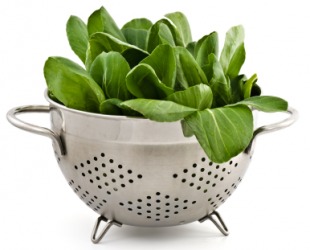 Vegetables draining in a colander.
---
colander definition by Webster's New World
noun
a perforated pan, usually bowl-shaped, for draining off liquids, as in washing vegetables
Origin: probably altered ; from Midieval Latin colator, ultimately ; from Classical Latin colare, to strain ; from colum, strainer
Webster's New World College Dictionary Copyright © 2010 by Wiley Publishing, Inc., Cleveland, Ohio. Used by arrangement with John Wiley & Sons, Inc.
---
colander definition by American Heritage Dictionary
noun
A bowl-shaped kitchen utensil with perforations for draining off liquids and rinsing food.
Origin: Middle English colyndore; probably from a Romance source akin to Old Provençal colador, strainer, from Vulgar Latin cōlātōr, from Latin cōlātus, past participle of cōlāre, to strain; see percolate.
colander