clerical

cler·i·cal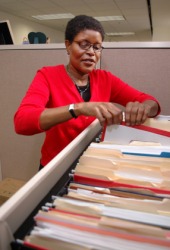 A woman doing clerical work in an office.
adjective
The definition of clerical is something related to performing routine work in an office or something related to clergy (priests).

Paperwork done for an office is an example of clerical work.
A priest's outfit is an example of a clerical outfit.
---
clerical
relating to the clergy or one of its members
relating to office clerks or their work
favoring clericalism
Origin of clerical
Middle English from Ecclesiastical Late Latin
clericalis,
clerical, priestly from
clericus:
see clerk
a member of the clergy
[pl.] clerics' garments
a person who favors clericalism
---
clerical
adjective
Of or relating to clerks or office workers or their work.
Of, relating to, or characteristic of the clergy.
Advocating clericalism.
noun
A member of the clergy.
clericals Garments worn by the clergy.
An advocate of clericalism.
Related Forms:
---
clerical

Noun
(plural clericals)
A member of the clergy.
Origin
From Late Latin clēricālis ("clerical"), from clēricus ("clergyman, priest").
---