chiffon
[s̸hi fän′; also, s̸hif′än′]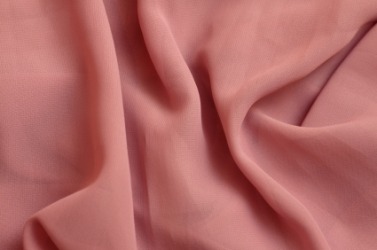 Pink chiffon fabric.
---
chiffon
noun
a sheer, lightweight fabric of silk, nylon, etc.
ribbons, laces, etc. used as accessories to a woman's dress
Origin of chiffon
French diminutive of
chiffe
, a rag, piece of cloth ; from uncertain or unknown; perhaps Arabic
šiff
, light garment
adjective
made of chiffon

Cooking

made light and porous as by the addition of stiffly beaten egg whites: lemon chiffon pie
---
chiffon
noun
A plain-woven fabric of sheer silk, cotton, or rayon.
Ornamental accessories, such as ribbons or laces, for women's clothing.
adjective
Of, relating to, or resembling the fabric chiffon.
Made light and fluffy by the addition of beaten egg whites or gelatin: a lemon chiffon pie.
Origin of chiffon
French,
rag, scrap, ornamental piece of ribbon or lace
, from
chiffe
,
rag
, alteration (influenced by Old French
chifre
,
zero, thing of little value
) of Old French
chipe
, from Middle English
chip
,
chip, wood shaving
; see
chip
1
.
---
chiffon
Noun
(plural chiffons)
A sheer silk or rayon fabric

Her dresses are made from these marvelous chiffons.
Origin
Borrowing from French chiffon, from Middle French chiffe "cloth, old rag" from Old French chipe "rag", from Middle English chip, chippe "chip, shard, fragment" from Old English ċipp "chip, splinter, beam" from Proto-Germanic *kippaz, *kipaz ("log, beam"). Akin to Old Saxon kip "beam, post", Old High German kipfa "axle-rod, stave". More at chip.
---