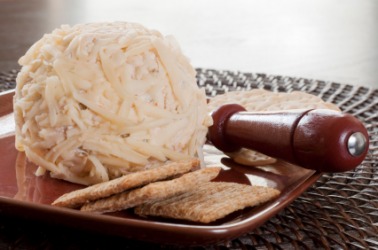 A cheeseball with crackers.
noun
The definition of cheeseball is a round ball of cheese or a name you call someone who is silly or goofy in action or appearance.

An example of a cheeseball is a friend who always tells silly jokes.
---
cheeseball

Noun
(plural cheeseballs)
A spherical mass of cheese or cream cheese, often including nuts or other additions and served as an hors d'oeuvre or finger food, usually with bread or crackers.
The tree Glochidion ferdinandi.
---