cheerleader
cheer·lead·er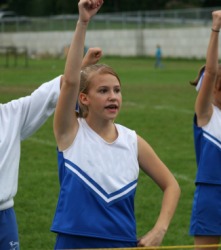 A young cheerleader at work.
noun
The definition of a cheerleader is someone who supports a sports team with chants and movements, or a person who energetically supports something.

An example of a cheerleader is a woman on the field during a football game that leads the stadium in chants.
An example of a cheerleader is a person who supports a politcal candidate in her neighborhood.
---
cheerleader
a person, typically one of a group, who leads fans in cheering for a team, as by shouting practiced cheers, performing acrobatic stunts, etc.
a person who enthusiastically promotes or supports a cause
---
cheerleader
noun
a. One who leads the cheering of spectators, as at a sports contest.

b. A member of a group that performs coordinated routines typically combining gymnastic and dance maneuvers, originally including rhythmic chants to encourage spectators to cheer at an athletic event, but often in competition with similar groups.

One who expresses praise for or promotes something enthusiastically.
Related Forms:
---
cheerleader

Noun
(plural cheerleaders)
(chiefly US) A person, usually an attractive female, who encourages applause at a sports event.
(figuratively) A person who rallies support for any cause.
---