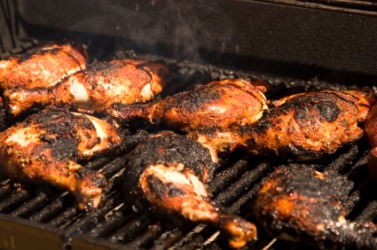 Chargrilled chicken legs.
verb
The definition of chargrill is to grill food at high heat or to cook food over a charcoal or wood fire.

When you throw steaks in an outside charcoal grill and turn the heat on high, this is an example of a time when you chargrill.
---
chargrill
to grill (meat), esp. over a fire of charcoal or wood
---
chargrill

Verb
(third-person singular simple present chargrills, present participle chargrilling, simple past and past participle chargrilled)
---