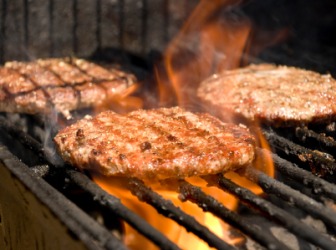 Hamburgers being charbroiled on a grill.
verb
To charbroil is to cook over a hot grill filled with charcoal.

An example of charbroil is to cook a steak on a grill.
---
charbroil
or char′-broil·
to broil over a charcoal fire
Origin of charbroil
from char(coal) + broil
---
charbroil
transitive verb
char·broiled, char·broil·ing, char·broils
To broil (meat, for example) over charcoal or another fuel source until the edges are charred or grill marks are visible: charbroil a steak.
Origin of charbroil
char
1
broil
1
---
charbroil

---