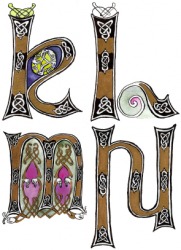 Celtic style illuminated letters.
adjective
Celtic is defined as something related to the Celts, or to a specific Indo-European group of people.

A language derived from Indo-European areas is an example of a Celtic language.
noun
The definition of Celtic is a language derived from Indo-European language, or is a person who is a Celt.

An Indo-European language is an example of Celtic.
---
Celtic
of the Celts or their languages or cultures
a branch of the Indo-European family of languages, divided into Goidelic (Irish, Scottish Gaelic, Manx) and Brythonic (Welsh, Breton, and the extinct Cornish) branches
---
Celtic
also Kelt·ic
noun
A subfamily of the Indo-European language family comprising the Insular and the Continental branches.
adjective
Of or relating to the Celts or their languages.
Usage Note: Although many people pronounce this word with an initial (s) sound, an initial (k) sound is standard in historical, linguistic, and sociological contexts. Interestingly, the introduction of the (k) sound is a linguistic change started by scholars, contravening the historical development of the word. The c was probably pronounced (s), as is usual before e, when the word entered English from French and Latin in the 1600s. The later pronunciation with (k) imitates that of the original Latin word Celtae, a name for the Gauls, the ancient Celtic tribes of France. The (s) pronunciation has no doubt been reinforced by the success and popularity of Boston's professional basketball team, the Celtics, a name that is sometimes shortened to the Celts. Both are always pronounced with the (s) sound.
---
celtic

Proper noun
A branch of the Indo-European languages that was spread widely over western and central Europe in the pre-Christian era.
Any one of several sports teams. See for a list.
---