'cello
[c̸hel′ō]
noun
The definition of a cello is an instrument in the violin family.

An example of a cello is a stringed instrument that is larger than a violin but smaller than a double bass.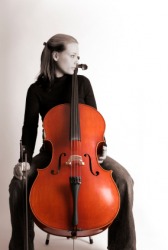 A cellist with her cello.
---
'cello
---
'cello
noun
pl.
cel·los
A four-stringed musical instrument of the violin family, pitched lower than the viola but higher than the double bass.
Origin of cello
Short for
violoncello
.
Related Forms:
cello
---
'cello
Noun
(plural cellos or celli)
(music) A large stringed instrument of the violin family with four strings. (From lowest to highest C-G-D-A)
---
'cello - Computer Definition
---
'cello
Variant of cello