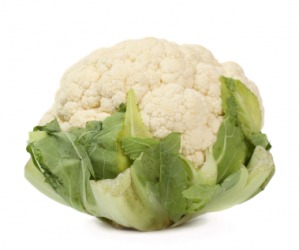 A head of raw cauliflower.
---
cauliflower definition by Webster's New World
noun
a variety of cabbage (Brassica oleracea var. botrytis) having a dense white mass of fleshy flower stalks that form the head
the head of this plant, eaten as a vegetable
Origin: earlier cole florye (altered after cole) ; from Italian cavolfiore (; from cavolo, cabbage plush fiore, flower) from source French chou-fleur; mod. spelling, spelled after Classical Latin caulis, cabbage
Webster's New World College Dictionary Copyright © 2010 by Wiley Publishing, Inc., Cleveland, Ohio. Used by arrangement with John Wiley & Sons, Inc.
---
cauliflower definition by American Heritage Dictionary
noun
An herb (Brassica oleracea var. botrytis) in the mustard family, related to the cabbage and broccoli and having a whitish undeveloped flower with a large edible head.
Origin: Probably alteration (influenced by flower) of New Latin cauliflōra : Latin caulis, stem + Latin flōs, flōr-, flower; see flower.