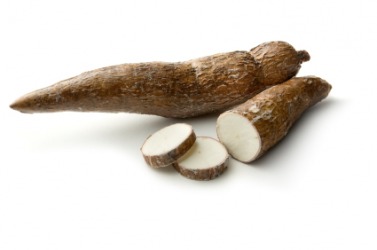 Whole and sliced cassava roots.
Licensed from iStockPhoto
---
noun
any of several tropical American plants, shrubs, and trees (genus Manihot, esp. M. esculenta) of the spurge family, having edible, starchy roots
this root or a starch extracted from it, used in making bread and tapioca
Origin: French cassave ; from Spanish cazabe ; from Taino casávi, cazábbi
Webster's New World College Dictionary
Copyright © 2010 by Wiley Publishing, Inc., Cleveland, Ohio.
Used by arrangement with John Wiley & Sons, Inc.
---
noun
In both senses also called
manioc
,
yuca
.
A shrubby tropical American plant (Manihot esculenta) widely grown for its large, tuberous, starchy roots.
The root of this plant, eaten as a staple food in the tropics only after leaching and drying to remove cyanide. Cassava starch is also the source of tapioca.
Origin: Ultimately from Taino casavi, flour from manioc.
The American Heritage® Dictionary of the English Language
, 4th edition Copyright © 2010 by Houghton Mifflin Harcourt Publishing Company. Published by Houghton Mifflin Harcourt Publishing Company. All rights reserved.