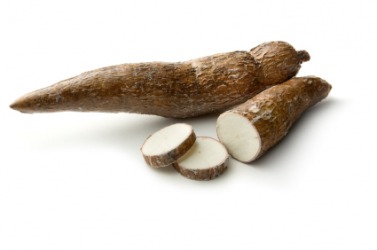 Whole and sliced cassava roots.
---
cassava definition by Webster's New World
noun
any of several tropical American plants, shrubs, and trees (genus Manihot, esp. M. esculenta) of the spurge family, having edible, starchy roots
this root or a starch extracted from it, used in making bread and tapioca
Origin: French cassave ; from Spanish cazabe ; from Taino casávi, cazábbi
Webster's New World College Dictionary Copyright © 2010 by Wiley Publishing, Inc., Cleveland, Ohio. Used by arrangement with John Wiley & Sons, Inc.
---
cassava definition by American Heritage Dictionary
noun
In both senses also called
manioc
,
yuca
.
A shrubby tropical American plant (Manihot esculenta) widely grown for its large, tuberous, starchy roots.
The root of this plant, eaten as a staple food in the tropics only after leaching and drying to remove cyanide. Cassava starch is also the source of tapioca.
Origin: Ultimately from Taino casavi, flour from manioc.