noun
The definition of a casserole is a one pot meal cooked in the oven consisting of rice, potato or noodles, combined with vegetables and meat or fish in some type of sauce.

A combination of pasta, peas, tuna fish and cream of celery soup is an example of a casserole.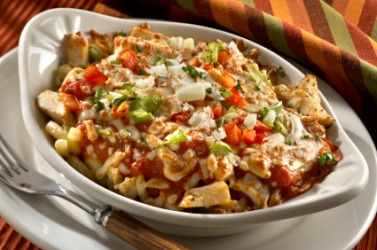 A pasta and chicken casserole.
---
casserole definition by Webster's New World
noun
an earthenware or glass baking dish, usually with a cover, in which food can be cooked and then served
the food baked and served in such a dish, typically rice, potatoes, or macaroni together with meat or fish and vegetables

Chem.

a deep porcelain dish with a handle, used for heating or evaporating a substance
Origin: French diminutive of casse, bowl, basin ; from Provençal cassa, melting pan ; from Vulgar Latin cattia ; from Classical Greek kyathion, diminutive of kyathos, bowl, cup
Webster's New World College Dictionary Copyright © 2010 by Wiley Publishing, Inc., Cleveland, Ohio. Used by arrangement with John Wiley & Sons, Inc.
---
casserole definition by American Heritage Dictionary
noun
a. A dish, usually of earthenware, glass, or cast iron, in which food is both baked and served.

b. Food prepared and served in such a dish.

Chemistry A small-handled, deep porcelain crucible used for heating and evaporating.
Origin: French, saucepan, diminutive of Old French casse, ladle, pan, from Old Provençal cassa, from Medieval Latin cattia, dipper, from Greek kuathion, diminutive of kuathos, ladle.