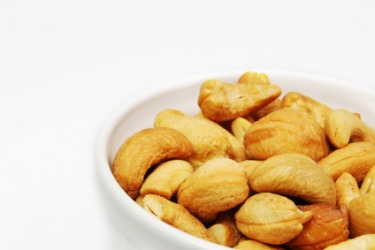 Cashew nuts in a bowl.
---
cashew definition by Webster's New World
noun
a tropical evergreen tree (Anacardium occidentale) of the cashew family, with kidney-shaped, poisonous nuts, each at the end of an edible, pear-shaped receptacle (), yielding oils used to make various resins, plastics, etc.
the nut, edible after being roasted
Origin: aphetic ; from French acajou ; from Portuguese acajú ; from Tupí
adjective
designating a family (Anacardiaceae) of dicotyledonous trees, shrubs, and vines (order Sapindales), including the pistachio, mango, and sumac
Webster's New World College Dictionary Copyright © 2010 by Wiley Publishing, Inc., Cleveland, Ohio. Used by arrangement with John Wiley & Sons, Inc.
---
cashew definition by American Heritage Dictionary
noun
A tropical American evergreen tree (Anacardium occidentale) widely cultivated for its edible nutlike kernels.
The kidney-shaped seed of this tree, eaten after roasting.
Origin: Probably Portuguese acajú, from Tupi, from cajú, yellow fruit, acidic.