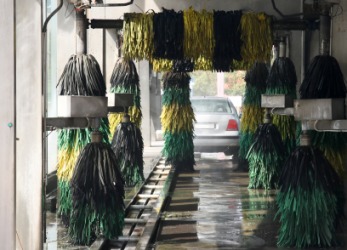 An automobile exiting a carwash.
noun
The definition of a carwash or car wash is a place or building where you have a car cleaned.

An example of a carwash is the automatic wash machine that you drive your car into near the gas station.
---
carwash
an establishment in the business of washing automobiles
a fundraising event in which automobiles are washed for a fee
---
carwash

Noun
(plural carwashes)
Alternative spelling of car wash.
---