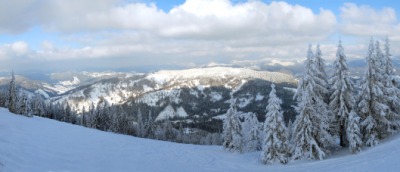 Winter in the Carpathian Mountains.
---
Carpathian Mountains
mountain system in central Europe, extending southeast from S Poland through Czech Republic and Ukraine into NE Romania: highest peak, 8,737 ft (2,663 m)
---
Carpathian Mountains
A major mountain system of central Europe in Slovakia, the extreme eastern Czech Republic, southern Poland, western Ukraine, and northeast Romania. Extending in an arc about 1450 km (900 mi) long, the range links the Alps with the Balkan Mountains and is a popular year-round resort area.
---
Carpathian Mountains
---