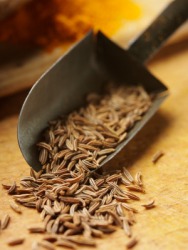 A scoop filled with caraway seeds.
---
caraway definition by Webster's New World
noun
a white-flowered biennial herb (Carum carvi) of the umbel family, with spicy, strong-smelling seeds
the seeds, used as a flavoring for bread, cakes, cheese, etc., and as a carminative
Origin: Middle English carawai ; from (? via Midieval Latin carvi ; from Old Spanish alcarahueya ; from Arabic al-karawiyā' ; from uncertain or unknown; perhaps Classical Greek karon, caraway
Webster's New World College Dictionary Copyright © 2010 by Wiley Publishing, Inc., Cleveland, Ohio. Used by arrangement with John Wiley & Sons, Inc.
---
caraway definition by American Heritage Dictionary
noun
A biennial Eurasian herb (Carum carvi) in the parsley family, having finely divided leaves and clusters of small, white or pinkish flowers.
The seedlike fruit of this plant, widely used as a flavoring and seasoning in various foods. Also called caraway seed.
Origin: Middle English carewei, from Old French carvi, caroi, probably from Medieval Latin carvi, carwi, ultimately from Arabic karawyā, from Greek karō.
, Hattie Ophelia Wyatt 1878-1950.
American legislator. Appointed to fill out her husband's term in the U.S. Senate in 1931, she became in 1932 the first elected woman senator and served until 1945.