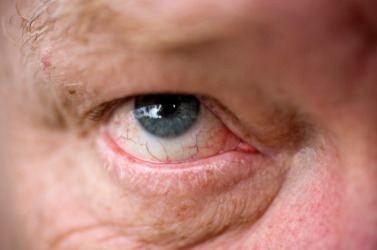 A close up of an eye showing the capillaries.
noun
The definition of a capillary is a small blood vessel that is part of the network of the small arteries and small veins, or an extremely thin tube through which nothing thicker than a human hair can pass.

A tiny blood vessel in your body that connects your smallest arteries (your arterioles) to your smallest veins (your venules) is an example of a capillary.
---
capillary
of or like a hair, esp. in being very slender
having a very small bore
in or of capillaries
Origin of capillary
Classical Latin
capillaris
from
capillus
, hair
noun
pl.
-·lar·ies
a tube with a very small bore
any of the tiny blood vessels normally connecting the smallest arteries (arterioles) with the smallest veins (venules)
---
capillary
adjective
Relating to or resembling a hair; fine and slender.
Having a very small internal diameter: a capillary tube.
Anatomy Of or relating to the capillaries.
Physics Of or relating to capillarity.
noun
pl.
cap·il·lar·ies
Anatomy One of the minute blood vessels that connect arterioles and venules. These blood vessels form an intricate network throughout the body for the interchange of various substances, such as oxygen and carbon dioxide, between blood and tissue cells.
A tube with a very small internal diameter.
Origin of capillary
From
Latin
capillāris
from
capillus
hair
---
capillary

Adjective
(comparative more capillary, superlative most capillary)
of or pertaining to hair
pertaining to a narrow tube
Noun
(plural capillaries)
A narrow tube
---