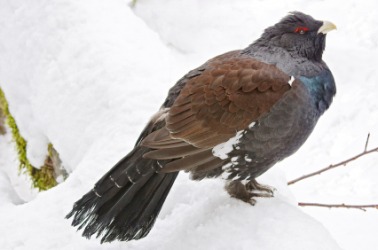 A male capercaillie.
---
capercaillie definition by Webster's New World
noun
the largest species of European grouse (
Tetrao urogallus
)
Origin: ; from Gaelic capull (; from Classical Latin caballus, horse) plush coille, forest, hence literally , horse of the woods
Webster's New World College Dictionary Copyright © 2010 by Wiley Publishing, Inc., Cleveland, Ohio. Used by arrangement with John Wiley & Sons, Inc.
---
capercaillie definition by American Heritage Dictionary
also cap·er·cail·zie
noun
A large grouse (Tetrao urogallus), native to northern Europe and having dark plumage and a fanlike tail. Also called wood grouse.
Origin: Scottish Gaelic capull coille : capull, horse (from Middle Irish capall, from Old Irish, ultimately from Latin caballus, of Celtic origin) + coille, genitive of coille, forest (from Old Irish caill).