noun
The definition of a camel is a large humped back animal with a long neck that lives in the deserts of Africa and Asia.

The animal most used for transportation in the African desert is an example of a camel.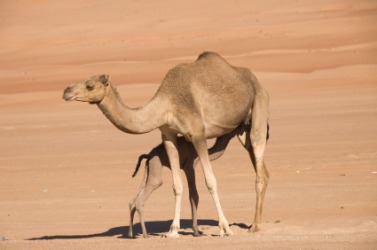 A mother camel and her baby.
---
camel definition by Webster's New World
noun
either of two species of large, domesticated ruminants (genus Camelus) with a humped back, long neck, and large, cushioned feet: capable of storing water in its body tissue, the camel is the common beast of burden in Asian and African deserts
a watertight cylinder used to raise sunken ships, wrecks, etc.

Naut.

a float, usually consisting of a log or logs, placed alongside a wharf, pier, etc. to protect docking ships
Origin: Middle English ; from Old English or Old French ; from Classical Latin camelus ; from Classical Greek kamēlos ; from Classical Hebrew (language) or Phoenician gāmāl; ultimately ; from uncertain or unknown; perhaps Babylonian
adjective
of the tan color of camel's hair
Webster's New World College Dictionary Copyright © 2010 by Wiley Publishing, Inc., Cleveland, Ohio. Used by arrangement with John Wiley & Sons, Inc.
---
camel definition by American Heritage Dictionary
noun
A humped, long-necked ruminant mammal of the genus Camelus, domesticated in Old World desert regions as a beast of burden and as a source of wool, milk, and meat.
A device used to raise sunken objects, consisting of a hollow structure that is submerged, attached tightly to the object, and pumped free of water. Also called caisson.
Sports A spin in figure skating that is performed in an arabesque or modified arabesque position.
Origin: Middle English, from Old English and from Anglo-Norman cameil, both from Latin camēlus, from Greek kamēlos, of Semitic origin; see gml1 in Semitic roots.
The American Heritage® Dictionary of the English Language, 4th edition Copyright © 2010 by Houghton Mifflin Harcourt Publishing Company. Published by Houghton Mifflin Harcourt Publishing Company. All rights reserved.
---
camel - Computer Definition
(Customized Application of Mobile network Enhanced Logic) A set of ETSI standards for extending landline intelligent network (IN) telephony services to the data services of GSM, GPRS and UMTS mobile systems. CAMEL functions were added in phases. Phase 1 covers basic features such as call waiting and forwarding. Phase 2 supports prepaid calling and unstructured supplementary service data (see USSD). Phase 3 supports roaming; Phase 4 adds multimedia services, and Phase 5 provides seamless prepaid roaming. See CAP.
Computer Desktop EncyclopediaTHIS DEFINITION IS FOR PERSONAL USE ONLYAll other reproduction is strictly prohibited without permission from the publisher.© 1981-2014 The Computer Language Company Inc. All rights reserved.
---
camel - Phrases/Idioms