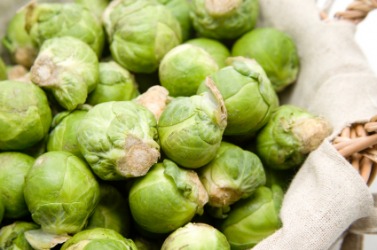 A basket of fresh Brussels sprouts.
---
Brussels sprout
a plant (Brassica oleracea var. gemmifera) of the crucifer family that bears miniature cabbagelike heads along an erect stem
one of these edible heads
---
Brussels sprout
Noun
(plural Brussels sprouts)
Usage notes
rarely used in the singular.
Origin
Recorded since 1748. Named after Brussels, the capital city of the duchy of Brabant and presently of Belgium. Sprout is from Old English -sprutan (in asprutan ("to sprout"); cognate with Old Saxon sprutan, Old Frisian spruta, Middle Dutch spruten, modern Dutch spruit ("sprout; Brussels sprout"), Old High German spriozan, German spreissen ("to sprout"), from Proto-Germanic *spreutaną, from Proto-Indo-European *sper- ("to strew").
---