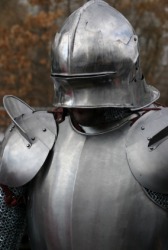 A suit of armor with close up on the breastplate.
noun
The definition of a breastplate is protection worn over the chest, or a square cloth with twelve jewels worn by ancient Jewish high priests.

An example of a breastplate is the metal armor worn over the chest by medieval knights.
---
breastplate
a piece of armor for the breast
in ancient times, an embroidered cloth worn on the breast of the Jewish high priest: it was set with twelve jewels representing the twelve tribes of Israel
---
breastplate
noun
A piece of armor that covers the breast.
Judaism A square cloth set with 12 precious stones representing the 12 tribes of Israel, worn over the breast by ancient high priests.
---
breastplate

---