noun
The definition of a breastplate is protection worn over the chest, or a square cloth with twelve jewels worn by ancient Jewish high priests.

An example of a breastplate is the metal armor worn over the chest by medieval knights.
YourDictionary definition and usage example. Copyright © 2013 by LoveToKnow Corp.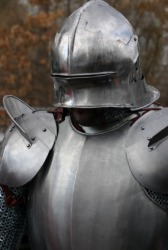 A suit of armor with close up on the breastplate.
Licensed from iStockPhoto
---
noun
a piece of armor for the breast
in ancient times, an embroidered cloth worn on the breast of the Jewish high priest: it was set with twelve jewels representing the twelve tribes of Israel
Webster's New World College Dictionary
Copyright © 2010 by Wiley Publishing, Inc., Cleveland, Ohio.
Used by arrangement with John Wiley & Sons, Inc.
---
noun
A piece of armor that covers the breast.
Judaism A square cloth set with 12 precious stones representing the 12 tribes of Israel, worn over the breast by ancient high priests.
The American Heritage® Dictionary of the English Language
, 4th edition Copyright © 2010 by Houghton Mifflin Harcourt Publishing Company. Published by Houghton Mifflin Harcourt Publishing Company. All rights reserved.