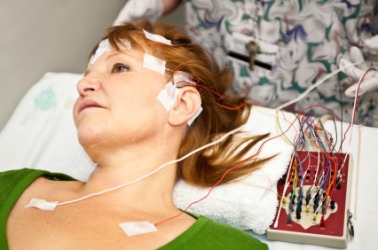 A woman having her brain waves measured.
---
brain wave
any of a series of rhythmic electric impulses given off by nerve centers in the brain: they produce oscillations on an electroencephalogram and are usually measured during rest

Informal

a sudden inspiration; brainstorm
---
brain wave
noun
A rhythmic fluctuation of electric potential between parts of the brain, as seen on an electroencephalogram.
Informal A sudden inspiration.
---
brain wave
Noun
(plural brain waves)
Alternative form of brainwave.
---