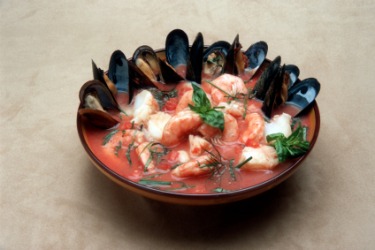 A bowl of bouillabaisse.
---
bouillabaisse definition by Webster's New World
noun
a stew of various fish, crustacean shellfish, vegetables, and seasonings: the broth is served over bread slices, often with a spicy garlic sauce, and the fish and vegetables are served alongside
any of various similar stews or soups
Origin: French ; from Provençal boulh-abaisso, literally , boils and settles ; from bouli (Fr bouillir), to boil plush abaissa (Fr abaisser): see abase
Webster's New World College Dictionary Copyright © 2010 by Wiley Publishing, Inc., Cleveland, Ohio. Used by arrangement with John Wiley & Sons, Inc.
---
bouillabaisse definition by American Heritage Dictionary
noun
A highly seasoned stew made of several kinds of fish and shellfish.
A combination of various different, often incongruous elements: a bouillabaisse of special interests.
Origin: French, from Provençal bouiabaisso : boui, imperative of bouie, to boil (from Latin bullīre, from bulla, bubble) + abaisso, imperative of abeissa, to lower (from Vulgar Latin *abbassiāre : Latin ad-, ad- + Medieval Latin bassus, low).