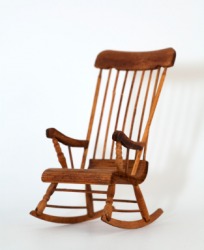 An example of a Boston rocker.
---
Boston rocker
☆
a type of 19th-cent. American rocking chair, having a curved wooden seat and a high back formed of spindles held in place by a broad headpiece
---
Boston rocker
noun
A rocking chair having a high back with spindles, a decorative panel at the top, and a seat and arms that curve downward in front.
---