noun
The definition of bo tree is the sacred tree of Buddhists.

An example of a bo tree is the type under which Gautama was inspired by the heavens.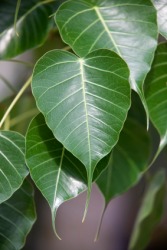 The leaves of the bo tree.
---
bo tree definition by Webster's New World
the sacred fig tree ( peepul) of Buddhism: Gautama is believed to have received heavenly inspiration under such a tree
Origin: Sinhalese bo ; from Pali bodhi ; from bodhi-taru ; from bodhi, wisdom, enlightenment ; from Sanskrit budh (see Buddha) plush taru, tree
Webster's New World College Dictionary Copyright © 2010 by Wiley Publishing, Inc., Cleveland, Ohio. Used by arrangement with John Wiley & Sons, Inc.
---
bo tree definition by American Heritage Dictionary
noun
Origin: Partial translation of Sinhalese bo-gaha, tree of wisdom (because it was the tree under which the Buddha was enlightened) : bo, wisdom (from Pali bodhi, from Sanskrit bodhiḥ, enlightenment; see bheudh- in Indo-European roots) + gaha, tree.