B/O

bo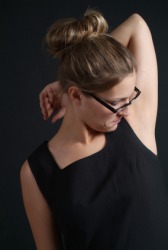 A woman checks for bo.
abbreviation
The definition of B/O is a bookkeeping abbreviation for brought over.

An example of B/O is the notation used when a new account is set up with a balance from a closed account.

The definition of BO is an abbreviation for body odor, which is an unpleasant smell a person can have if he doesn't wear enough deodorant.

An example of BO is the way a person smells after he has been to the gym for two hours and sweated a lot and not showered.
---
bo
back order
bad order
buyer's option
BO
Informal

body odor
box office
branch office
B/O
---
bo
noun
pl.
bos
A long staff, used as a weapon in martial arts.
Origin of bo
Japanese
bō
stick, bo
from
Middle Chinese
ba&istroke;wŋ'
stick
(
also the source of
Mandarin
bàng
)
from
Old Chinese
brôŋ&qnodot;
perhaps of Tai origin and akin to
Thai
phl&irevc;&irevc;ŋ
club, cudgel (if the Tai word is not itself of Sinitic origin)
---
bo

---
bo - Computer Definition
---