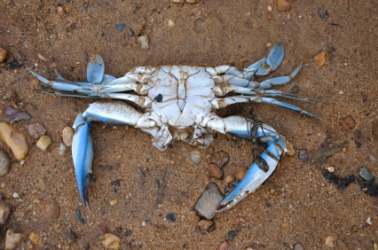 A blue-crab on the sand.
---
blue crab
☆
any of a genus (Callinectes) of crabs, esp. a blue-legged, edible swimming species (C. sapidus) of the Atlantic coast of North America
---
blue crab
noun
An edible, bluish swimming crab (Callinectes sapidus) of coastal waters of the western Atlantic Ocean and the Gulf of Mexico.
---