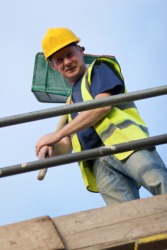 This bricklayer is considered a blue-collar worker.
---
blue-collar
☆
adjective
designating or of industrial workers, esp. the semiskilled and unskilled
Origin of blue-collar
from the traditional color of work shirts
---
blue-collar
adjective
Of or relating to wage earners, especially as a class, whose jobs are performed in work clothes and often involve manual labor.
Related Forms:
---
blue-collar
Adjective
(comparative more blue-collar, superlative most blue-collar)
Working class; engaged or trained in essentially manual labor.

Blue-collar workers represent a diminishing segment of society.

Pertaining to the culture of blue-collar workers.

Even as a tenured professor, she remained proud of her blue-collar values.
---