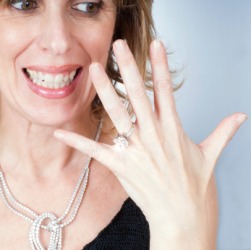 A woman shows off her bling.
noun
The definition of bling is something flashy or showy, usually jewelry.

A giant diamond ring is an example of bling.
---
bling
showy and expensive jewelry or other ostentatious accessories
flamboyant or ostentatious showiness; glitz
Origin of bling
origin, originally uncertain ; probably popularized through use in hip-hop music
---
bling
or bling-bling Slang
noun
Jewelry or fashion accessories, usually made of metal or other shiny material.
Showy or ostentatious items.
adjective
Deliberately showy; ostentatious.
Origin of bling
Originally hip-hop slang
probably meant to suggest light flashing off showy jewelry
---
bling

Noun
(uncountable)
Alternative form of bling bling.
Ostentatious display of richness or style.
---