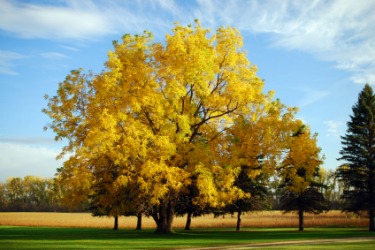 A black walnut tree in autumn.
---
black walnut
☆
a tall walnut tree (Juglans nigra) native to E North America
its hard, heavy, dark-brown wood, used in making furniture, gunstocks, etc.
its edible, oily nut
---
black walnut
noun
An eastern North American tree (Juglans nigra) having dark brown wood and a deeply furrowed nut enclosed in a globose aromatic husk.
The wood of this tree, used especially for veneer, cabinets, furniture, and gunstocks.
The nut of this tree, having an edible kernel.
---