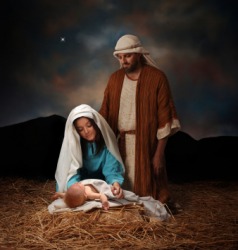 The story of Mary is a Biblical story.
adjective
The definition of biblical is something related to or concerned with the Bible.

The name Mary is an example of a biblical name related to the story of the Virgin Mary.
---
biblical
of or in the Bible
in keeping with or according to the Bible; like that in the Bible
---
biblical
also Bib·li·cal
adjective
Of, relating to, or contained in the Bible.
Being in keeping with the nature of the Bible, especially:

a. Suggestive of the personages or times depicted in the Bible.

b. Suggestive of the prose or narrative style of the King James Bible.

Very great in extent; enormous: a natural disaster of near biblical proportions.
Origin of biblical
From
Medieval Latin
biblicus
from
Late Latin
biblia
Bible
; see
Bible
.
Related Forms:
---
biblical

Adjective
(comparative more Biblical, superlative most Biblical)
Alternative capitalization of biblical..
---