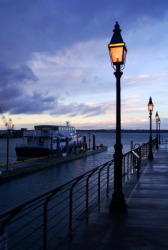 A pier in Bellingham, Washington.
---
Bellingham
seaport in NW Wash., at the N end of Puget Sound: pop. 67,000
Origin of Bellingham
after
Bellingham
Bay, so named (1793) by Capt. Vancouver (see Vancouver) after his associate, Sir William
Bellingham
---
Bellingham
A city of northwest Washington on Bellingham Bay southeast of Vancouver, Canada. Settled in 1852, it grew as a port of entry.
---
Bellingham
---