bed bug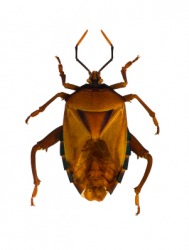 A bed bug.
noun
The definition of a bed bug is a small, wingless, blood-sucking insect with a flat, reddish-body that infests furniture and beds and is active at night. The common name for this insect is often spelled "bedbug." However, according to the Entomological Society of America (ESA) the correct common name of this insect is "bed bug."

An example of a bed bug is a small red bug that is found in the corded trim of a bed's mattress and bites the person sleeping in the bed.
---
bed-bug

Noun
(plural bed bugs)
Alternative form of bedbug.
---