basalt
[bə sôlt′; bā′sôlt′, bas′ ôlt′]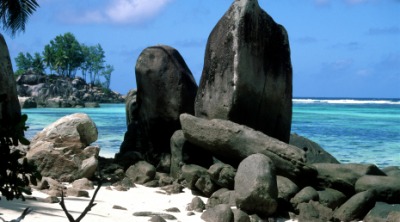 Basalt rocks at the beach.
---
basalt
noun
a dark, fine-grained, usually extrusive igneous rock that is more basic than andesite, consisting chiefly of plagioclase feldspars and pyroxene: often found in vast sheets, it is the most common extrusive igneous rock
a kind of unglazed, black pottery designed by Josiah Wedgwood
Origin of basalt
earlier
basaltes
; from Classical Latin a dark Ethiopian marble: term used by Pliny for
basanites
; from Classical Greek
basanitēs,
species of slate used to test gold ; from
basanos,
touchstone, test (ult. ; from Egyptian
bḫnw
) +
-itēs
, -ite
---
basalt
noun
A hard, dense, dark igneous rock composed chiefly of plagioclase feldspar, pyroxene, and olivine, and often having a glassy appearance.
A kind of hard unglazed pottery.
Origin of basalt
Latin
basaltēs
, alteration of
basanītēs
,
touchstone
, from Greek
basanītēs (lithos)
, from
basanos
, Egyptian
b&hlowbrev;n
,
graywacke
.
Related Forms:
basalt
columnar basalt at Sheepeater Cliff, Yellowstone National Park, Wyoming
---
basalt
Noun
(plural basalts)
(mineralogy) A hard mafic igneous rock of varied mineral content; volcanic in origin, it makes up much of the Earth's oceanic crust.
A type of unglazed pottery.
---