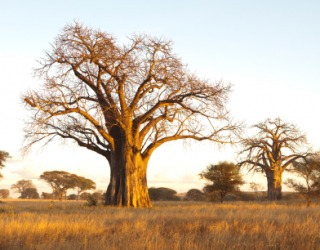 The baobab tree.
---
baobab definition by Webster's New World
noun
a thick-trunked tree (Adansonia digitata) of the bombax family, native to Africa: fiber from its bark is used for making rope, paper, etc., and the gourdlike fruit has an edible pulp
Origin: ; from uncertain or unknown; perhaps Ethiopian native name
Webster's New World College Dictionary Copyright © 2010 by Wiley Publishing, Inc., Cleveland, Ohio. Used by arrangement with John Wiley & Sons, Inc.
---
baobab definition by American Heritage Dictionary
noun
Any of several trees of the genus Adansonia of Africa, Madagascar, and Australia, especially the tropical African species A. digitata having a broad swollen trunk that stores water, palmately compound leaves, and edible gourdlike hanging fruits.
Origin: Possibly from North African Arabic būḥibab, fruit of many seeds, from Arabic 'abū ḥibāb, source of seeds : 'ab, father, source; see אb in Semitic roots + ḥibāb, pl. of ḥabb, seed.