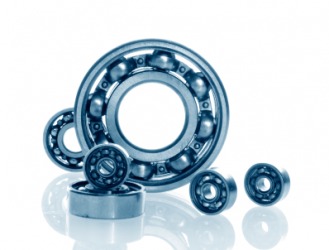 Metal ball bearings.
---
ball bearing
a bearing in which the moving parts revolve or slide on freely rolling metal balls so that friction is reduced
any of such metal balls
---
ball bearing
noun
Abbr.
bb
A friction-reducing bearing consisting essentially of a ring-shaped track containing freely revolving hard metal balls against which a rotating shaft or other part turns.
A hard ball used in such a bearing.
---
ball bearing
---