noun
The definition of Australia is the name of one of the seven continents of the world and includes the countries of Australia, New Guinea, the Aru Islands, and the Raja Ampat Islands.

A continent that is in the southern hemisphere and located southwest of Asia is an example of Australia.
A large country located east of the Indian Ocean and southwestern of the Pacific Ocean that includes Tasmania is an example of Australia.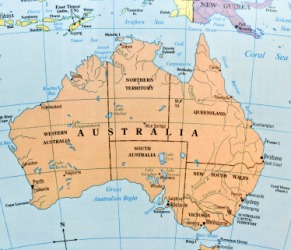 A map of Australia.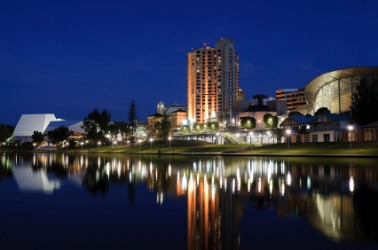 Night view of Adelaide's skyline, the capital of Southern Australia.
---
Australia definition by Webster's New World
island continent in the Southern Hemisphere between the S Pacific and Indian oceans

country comprising this continent and Tasmania: a member of the Commonwealth: 2,970,000 sq mi (7,682,000 sq km); pop. 16,800,000; cap. Canberra
Origin: Modern Latin ; from Classical Latin (terra) australis, southern (land): see austral
Webster's New World College Dictionary Copyright © 2010 by Wiley Publishing, Inc., Cleveland, Ohio. Used by arrangement with John Wiley & Sons, Inc.
---
Australia definition by American Heritage Dictionary
The world's smallest continent, southeast of Asia between the Pacific and Indian oceans.
A commonwealth comprising the continent of Australia, the island state of Tasmania, two external territories, and several dependencies. The first British settlement, a penal colony at Port Jackson (now part of Sydney), was established in 1788. The present-day states grew as separate colonies; six of them formed a federation in 1901. In 1911 Northern Territory joined the commonwealth and the Capital Territory, site of Canberra, was created. Canberra is the capital and Sydney is the largest city. Population: 20,400,000.
Australia
The American Heritage® Dictionary of the English Language, 4th edition Copyright © 2010 by Houghton Mifflin Harcourt Publishing Company. Published by Houghton Mifflin Harcourt Publishing Company. All rights reserved.
---
Australia - Cultural Definition
Nation occupying the whole of Australia, the smallest continent, between the Indian Ocean and the southwest Pacific Ocean. Its capital is Canberra, and its largest city is Sydney.
The first settlements there were penal colonies for British convicts.

Its aboriginal tribes, which still exist today (

see

aborigines), are thought to have migrated from Southeast Asia twenty thousand years ago.