Australia

Aus·tra·lia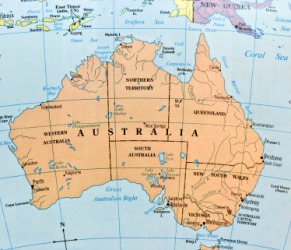 A map of Australia.
noun
The definition of Australia is the name of one of the seven continents of the world and includes the countries of Australia, New Guinea, the Aru Islands, and the Raja Ampat Islands.

A continent that is in the southern hemisphere and located southwest of Asia is an example of Australia.
A large country located east of the Indian Ocean and southwestern of the Pacific Ocean that includes Tasmania is an example of Australia.
---
Australia
large island in the Southern Hemisphere between the S Pacific and Indian oceans: traditionally regarded as a continent, but now often considered by geographers to be part of a larger continent called Oceania

country comprising this island, Tasmania, and many smaller islands: a member of the Commonwealth: 2,967,909 sq mi (7,686,850 sq km); cap. Canberra
Origin of Australia
Modern Latin from Classical Latin (
terra
)
australis,
southern (land): see austral
---
Australia
The world's smallest continent, southeast of Asia between the Pacific and Indian Oceans.
A commonwealth comprising the continent of Australia, the island state of Tasmania, and several island territories and dependencies. The continent was inhabited by Aboriginal peoples for at least 40,000 years before the first British settlement, a penal colony at Port Jackson (now part of Sydney), was established in 1788. The present-day states grew as separate colonies; six of them formed a federation in 1901. In 1911 Northern Territory joined the commonwealth and the Capital Territory, site of Canberra, was created. Canberra is the capital and Sydney is the largest city.x
Australia
---
australia

Proper noun
A country in Oceania. Official name: Commonwealth of Australia.
(geology) The continent of Australia-New Guinea. New Guinea and the intervening islands are also on the Australian tectonic plate and are thus geologically considered part of the continent.
Origin
First attested 16th century, from Latin terra austrālis incōgnita ("unknown southern land"), from auster ("the south wind"). Used also in 1693 (quotation below). Popularised by Matthew Flinders in 1814 (quotation below).
Distantly cognate to Austria – same Proto-Indo-European root, but via German where it retained the earlier sense of "east" rather than "south".
See also Terra Australis.
See also:
Austrália
---