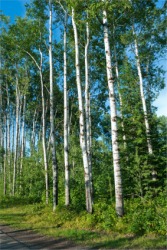 Several aspen trees.
---
aspen
noun
any of several kinds of poplar tree (genus Populus) with flattened leafstalks that cause the leaves to flutter in the least breeze
Origin of aspen
Middle English
aspe
(aspen, in compound ) ; from Old English
æspe
; from Indo-European base an unverified form
apsa
from source Lithuanian
ãpuš
, Old Prussian
abse
adjective
of or like an aspen
city in central Colorado: ski resort: pop. 5,000
---
aspen
noun
Any of various trees of the genus Populus having leaves that flutter readily in the wind because of their flattened leafstalks.
Origin of aspen
Middle English
aspe
, from Old English
æspe
.
aspen
quaking aspens
Populus tremuloides
A city of west-central Colorado west-southwest of Denver at the base of Aspen Mountain, a peak rising to 3,418 m (11,212 ft). Founded c. 1879 by silver prospectors, Aspen is a popular ski area and mountain resort.
---
aspen
---
aspen - Computer Definition
(Aspen Technology, Inc., Burlington, MA, www.aspentec.com) A leading provider of smart manufacturing and supply chain management software and services for the process industries, which includes chemicals, metals and minerals, pulp and paper, electric power and consumer packaged goods. Aspen was founded in 1981 to commercialize technology developed by the Advanced System for Process Engineering (ASPEN) at MIT. From 1976 to 1981, the ASPEN project was funded by the U.S. Department of Energy and a group of more than 50 industrial participants, after which it went public.
---