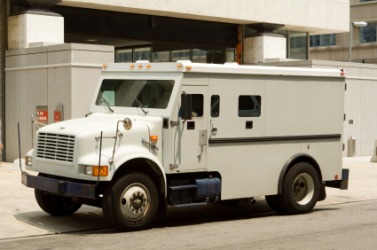 An armored car.
---
armored car
☆
any of various vehicles covered with armor plate, as a truck for carrying money to or from a bank

Mil.

a wheeled motor vehicle with armor plate, usually carrying a mounted machine gun and used esp. for reconnaissance
---
armored car
noun
A lightly armored truck used to transport cash and other valuables.
A lightly armored vehicle, usually mounted with a turret, used for military reconnaissance, combat support, and security.
---
armored car
---