Aristotelian logic
Aristotelian logic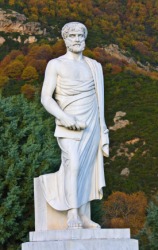 A statue of Aristotle.
noun
The definition of Aristotelian logic is the deductive logic of Aristotle, particularly in its modified form as taught in the Middle Ages.

The Theory of the Syllogism is an example of Aristotelian logic.
---
Aristotelian logic
Aristotle's method of deductive logic, characterized by the syllogism
the formal logic developed from Aristotle's
---
Aristotelian logic
noun
Aristotle's deductive method of logic, especially the theory of the syllogism.
The formal logic based on Aristotle's and dealing with the relations between propositions in terms of their form instead of their content.
---