noun
The definition of Aristotelian logic is the deductive logic of Aristotle, particularly in its modified form as taught in the Middle Ages.

The Theory of the Syllogism is an example of Aristotelian logic.
YourDictionary definition and usage example. Copyright © 2013 by LoveToKnow Corp.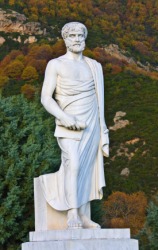 A statue of Aristotle.
Licensed from iStockPhoto
---
Aristotle's method of deductive logic, characterized by the syllogism
the formal logic developed from Aristotle's
Webster's New World College Dictionary
Copyright © 2010 by Wiley Publishing, Inc., Cleveland, Ohio.
Used by arrangement with John Wiley & Sons, Inc.
---
noun
Aristotle's deductive method of logic, especially the theory of the syllogism.
The formal logic based on Aristotle's and dealing with the relations between propositions in terms of their form instead of their content.
The American Heritage® Dictionary of the English Language
, 4th edition Copyright © 2010 by Houghton Mifflin Harcourt Publishing Company. Published by Houghton Mifflin Harcourt Publishing Company. All rights reserved.