Archimedes
[är′kə mē′dēz′]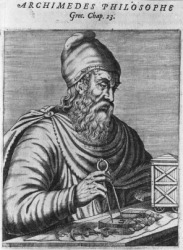 An illustration of Archimedes.
---
Archimedes
287?-212 ; Gr. mathematician & inventor, born in Syracuse (Sicily)
---
Archimedes
287?–212 BC.
Greek mathematician, engineer, and physicist. Among the most important intellectual figures of antiquity, he discovered formulas for the area and volume of various geometric figures, applied geometry to hydrostatics and mechanics, devised numerous ingenious mechanisms, such as the Archimedean screw, and discovered the principle of buoyancy.
Related Forms:
Ar′chi·me′de·an

adjective
---
Archimedes
Origin
Ancient Greek Ἀρχιμήδης (Arkhimēdēs).
---